out of work
things have been a challenge. After the panic passed it really has been a blessing. We got amazing news on Monday that is going to help our lives and our attitudes tremendously! I do not feel comfortable sharing the exact details, but it was something that makes me feel truly blessed.
We're still waiting for the right job to come along, but until then we can breathe a little bit easier. We have learned so much about budgeting and waiting for things we would like to have for our home or the boys. I have become the queen of making do with what we already have, re-purposing, and generally learning to be content.

I am really finding joy in my home and my life since I have been forced to reevaluate on so many levels.
We have plans and dreams and hopes.

Now we feel a burden has been lifted and so much of our challenge has been for a greater purpose. Our boys are learning valuable lessons right along with us. It makes my heart happy to have them going down a better financial path than we did. I'll take the financial headaches we've had knowing that the boys hopefully will not have to travel the same path to gain control over their finances.
Things are looking up!
We are truly blessed and I am truly thankful for His perfect timing!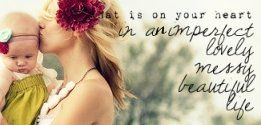 Joining Miss Casey again sharing our hearts.